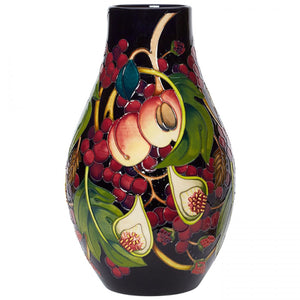 Queen's Choice 117/12".

Designer: Emma Bossons FRSA
Dimensions:  H 31.00 x W 18.50 x D 18.50 cm ( Big one)
Availability: in stock
Queens Choice with its succulent grapes, ripe figs, and peaches was inspired by Titania's words in 'A Midsummer Night's Dream'. Queens Choice has arguably become one of the most admired Moorcroft designs of all time.
BOTTLE KILN SHAPE/ A very beautiful vase