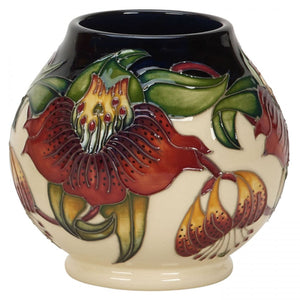 Anna Lily RM2/4 Vase
Moorcroft designer Nicola Slaney introduced Anna Lily in 2001. Since then, its rich and exuberant floral design has made it one of Moorcroft Pottery's most desirable ranges.
It's Moorcroft's largest range and really does have something for everyone, whether they're a longstanding collector or searching for the perfect present.
Designer:

 

 

Nicola Slaney
Dimensions:

 

H 10.00 x W 11.00 x D 11.00 cm
Shape: 

RM2/4

Edition: 

open

Collection: 

2018 Catalogue

Discontinued: 

Yes

Design Window (Style): 

Broad Florals