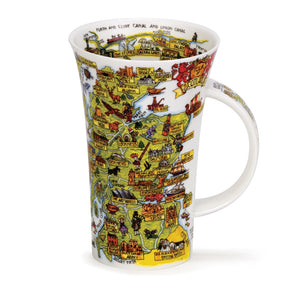 From the"Scotland" collection.
Glencoe: Tour of Scotland
Fine bone china.
CAPACITY: 0.5L          HEIGHT: 152mm          DIAMETER: 100mm
Made in England
This oversized mug, named after one of the greatest Glens in Scotland 'Glencoe', is one of our oldest shapes, yet remains one of our most striking. It has a great presence and our informative and educational patterns have remained the most popular designs on this shape. It has a flared top and a strong, comfortable handle so it feels very solid to hold.
Discover the sights and landmarks of Scotland with this mug by Caroline Dadd. Featuring a colorful map of Scotland with wonderful illustrations of its landmarks and cultures. Maps of Edinburgh and Glasgow feature on the reverse