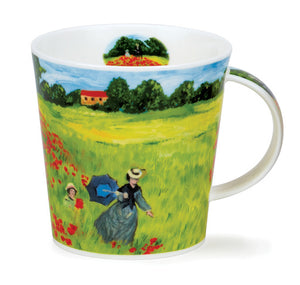 CAIRNGORM: Giverny
Fine bone china

CAPACITY: 0.48L          HEIGHT: 104mm          DIAMETER: 104mm
Made in England.
With its straight edges and clean lines, Cairngorm is a contemporary mug shape holding 0.48L. It is a larger version of our Lomond shape, and Cairngorm can make an excellent gift for anyone.
Inspired by the famous Poppy Field by Claude Monet, this impressionistic artwork features rows of vibrant poppies in a green field sitting underneath wispy clouds on a lovely summer's day.
Picture #2, the collection of 2 mugs.